Honor to Whom Honor is Due
The American Flag
Joseph Rodman Drake

When freedom, from her mountain height
Unfurled her standard to the air,
She tore the azure robe of night
And set the stars of glory there.
She mingled with its gorgeous dyes
The milky baldric of the skies,
Then from his mansion in the sun
She called her eagle-bearer down
And gave into his mighty hand
The symbol of her chosen land.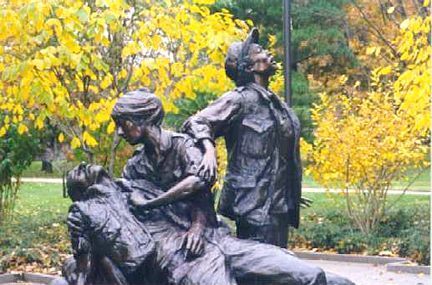 Ben Stein's riveting performance in Ferris Bueller's Day Off isn't the only avenue by which that man has inspired me. His countless visits to the men and women who have fought to preserve our national identity, our freedom and our future has long convicted and inspired this little blogger. (You can read his account of one such visit here.)
So tomorrow, after work, I'm going to stop being inspired and convicted, and instead am going to act. I'm going to the Veterans Hospital in Los Angeles to pay tribute to men who presently suffer the enduring memory of their sacrifice that has enabled me to sit here, in peace, and write freely.
In the last few years, these men have had to look out their hospital windows to all manner of anti-war anti-victory, anti-Commander-in-Chief, anti-American protests. Protests attended by thousands--enough to shut down heavily trafficked boulevards.
But the scales have never been balanced. There haven't been thousands of patriotic American visitors bombarding the lonely hospital rooms to even out the score, to show these men they are not forgotten. It's truly heartbreaking, which is why Mr. Stein writes so frequently and so passionately about his visits. And why he so ardently encourages others to stop by and thank a soldier.
So I'm going to. I'm sure I'll be a basket case and they'll wonder what this unknown, emotional blonde is doing there. But I could stand to lose a little dignity for those who've lost life and limb. Plus, there's a reason waterproof mascara was invented. This would be one of them.
Have a lovely and safe and ultra-patriotic Independence Day.
Happy Birthday, America!
Posted by Portia at July 3, 2006 08:28 PM | TrackBack