The Way, the Truth and the Life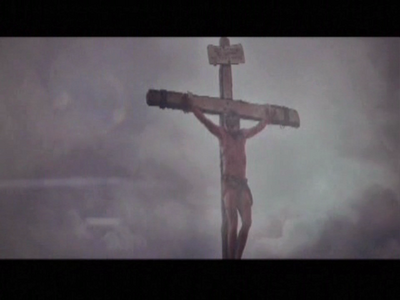 Pope Benedict XVI presided over Good Friday mass at the Vatican last night. Read aloud during the service were 14 meditations and prayers written by Archbishop Angelo Comastri. They are beautiful in their simplicity and profundity.
Each title is an embedded link to the entire meditation for your further review.

Via Crucis--The Way of the Cross
Station One:
Jesus is Condemned to Death

We know this scene of condemnation all too well: we see it played out daily! But one question troubles our hearts: why does God allow himself to be condemned? Why does God, the Almighty, show himself clothed with weakness? Why does God let himself be attacked by pride, insolence and human arrogance? Why does God remain silent?
Station Two:

Jesus Takes Up His Cross


In Christ's passion,
our evil recoiled before goodness,
our pride exploded with resentment
in the face of humility,
our depravity was outraged
by God's radiant clarity.
And thus we became ... God's cross!
Station Three:
Jesus Falls for the First Time

Jesus reminds us that sin is a heavy burden, sin lowers us and destroys us, sin punishes us and brings us evil: in a word, sin is evil!

Yet God still loves us and desires what is good for us; his love drives him to cry out to the deaf, to us, who are unwilling to hear: "Abandon sin, because it hurts you. It takes away your peace, your joy; it cuts you off from life, and dries up within you the very source of your freedom and dignity".

Abandon it! Abandon it!

PRAYER

Lord, we have lost our sense of sin! Today a slick campaign of propaganda is spreading an inane apologia of evil, a senseless cult of Satan, a mindless desire for transgression, a dishonest and frivolous freedom, exalting impulsiveness, immorality and selfishness as if they were new heights of sophistication.
Station Four:

Jesus Meets His Mother


Mary is the Mother!
In her, womanhood is unalloyed,
and love is not poisoned by the waves of selfishness
that constrict and smother human hearts.


Her heart faithfully accompanies
the heart of her Son,
shares in his sufferings, carries his cross,
and itself feels the pain
of every wound inflicted on the body of her Son.
Station Five:

Jesus is helped by Simon the Cyrene to carry his Cross


Simon of Cyrene,
you are one of the little ones, the poor,
a nameless man from the countryside,
someone overlooked by the history books.
And yet you made history!


Lord Jesus,
rekindle within us the spark of humanity
that God placed in our hearts at the dawn of creation.
Free us from our decadent narcissism,
and we will find new joy in life
and burst into joyful song.
For the sake of brevity, I'll simply post the links to the remaining stations, highlighting just one or two more.
Station Six: Veronica Wipes the Face of Jesus
Station Seven: (Must be quoted)

Jesus Falls for the Second Time


Our arrogance, our violence, our injustices
all press down upon the body of Christ.
They weigh upon him ... and he falls a second time,
to show us the unbearable burden
of our sins.
But what is it that today, in particular,
strikes at Christ's holy body?


Surely God is deeply pained
by the attack on the family.
Today we seem to be witnessing
a kind of anti-Genesis,
a counter-plan, a diabolical pride
aimed at eliminating the family.


There is a move to reinvent mankind,
to modify the very grammar of life
as planned and willed by God.


But, to take God's place, without being God,
is insane arrogance,
a risky and dangerous venture.
Station Eight: Jesus Meets the Women of Jerusalem
Station Nine: Jesus Falls for the Third Time
Station Ten:

Jesus is Stripped of His Garments


Lord Jesus,
purity has everywhere fallen victim
to a calculated conspiracy of silence: an impure silence!
People have even come to believe
a complete lie:
that purity is somehow the enemy of love.
But the opposite is true, O Lord!
Purity is necessary
as a condition for love:
a love that is true, a love that is faithful.
Station Eleven: Jesus is Nailed to the Cross
Station Twelve: Jesus Dies on the Cross
Station Thirteen:

Jesus is Taken Down from the Cross and Given to His Mother


The Pietà! We almost seem
to feel compassion for God
and yet – once again –
it is God who feels compassion for us.


The Pietà! Our pain
is no longer hopeless,
nor will it ever be hopeless again,
for God has come to suffer with us.


And with God, can we ever be hopeless?
Station Fourteen: Jesus is Laid in the Tomb
I assure you these are all worthy reads, but to keep the post from taking over my entire page, I thought I'd try to keep it as short as possible.
Happy Easter, once again.
(Hat tip: Michael Savage. Yes, he was reading these on the air last night.)